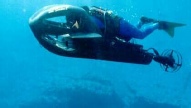 © 2013 Oceanic Imaging Consultants, Inc.


Service + Software for Seafloor Mapping


OIC Provides 5-Day Training Course (in-house and at-sea)
During the week of July 8-12, Oceanic Imaging Consultants hosted a successful five day training course spending four days at our office in Honolulu, Hawaii, and one day at-sea. Class attendees included a variety of OIC clients representing academic, military, and private industry institutions. The course covered a variety of topics related to our data acquisition and processing software programs, and included both on-water and classroom-based sessions. Thank you to all of our clients who attended the course! We look forward to working with you again soon.
Ocean News and Technology Magazine
Mentions OIC's Examination of Raw Data for Potential Amelia Earhart Wreckage
Ocean News and Technology magazine published an article about the International Group For Historic Aircraft Recovery (TIGHAR)'s review of sonar data for what they believed was the potential wreckage of Amelia Earhart's Lockheed Electra in their July 2013 issue. OIC's senior data processor analyzed the data and found anomalies that indicate it probably isn't the infamous Electra.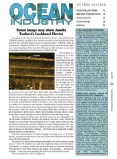 OIC Planning 20th Anniversary Party for Oceans 2013, September 24, 2013
Oceanic Imaging Consultants, Inc. is planning to hold a "Virtual Seafloor Scavenger Hunt" to celebrate 20 years of seafloor mapping experience.
See our QR code page for details.
July 2013