GeoDAS for Forward-Look Sonar
GeoDAS-FLS (Forward-Look Sonar) controls and acquires data from the Ultra Electronics high-frequency wide-band forward looking sonar system. The side-by-side bathymetry and imagery displays provide obstacle avoidance capabilities and overall environmental awareness. In addition to the acquisition and playback module, GeoDAS-FLS includes target analysis capabilities and provides a superior working environment for vehicle operators, particularly in low-visibility environments.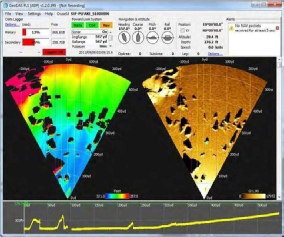 The GeoDAS-FlS GUI provides a customizable interface for acquiring and analyzing your forward-look data. The main GUI component is the side-by-side bathymetry and imagery sector displays. Beneath the sectors displays is a bathymetry profile for the region ahead of the vehicle.
Graphical User Interface
Logging controls with system/network status indicator
Navigation and attitude information
Imagery and bathymetry processing
Scan-line waterfall display
look-ahead bathymetry profile
System Control Interface
GeoDAS-FLS allows operators to directly control the sonar acquisition settings. Specific controls include:
Range and sector width
Ping Interval
Pulse length
Pulse amplitude
Time Varying Gain control (TVG)
Apply pitch and roll corrections
Target Analysis
Mark bathymetry or imagery targets
Process target images post-capture
Target mensuration capabilities
Customize feature categories
Output to target database