Surveys and Survey Consultation
OIC is focused on creating the best and most easily useable software for hydrographic surveying. While this is our primary focus as a company, sometimes we are asked to lend our expertise on actual survey missions.
Since its inception in 1993, OIC has participated in hydrographic surveys and ROV surveys in Hawaii at Kaneohe Bay, the Ala Wai channel, Pearl Harbor, and Honolulu Harbor. We have also provided onsite survey support for in the Gulf of Mexico, Juan de Fuca ridge, Tahiti, and other sites around the world.
OIC has provided survey management services for a number of clients including:
Raytheon
NAVOceano
Geoscience Earth and Marine Services, Inc. (GEMS)
Science Applications International Corporation (SAIC)
Makai Ocean Engineering
URS Corporation
Local surveying takes place on one of our two survey vessels (e.g., TomCat) using one of our sensors, or hydrographic survey equipment specified by the client.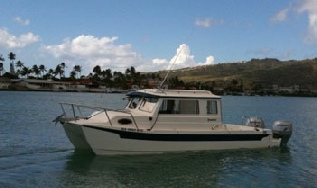 TomCat - An OIC Survey Vessel
Our in-house equipment includes two survey vessels, bathymetric and sidescan sonars, DGPS, TSS motion sensor, FOG gyro, and the latest hardware and software on board.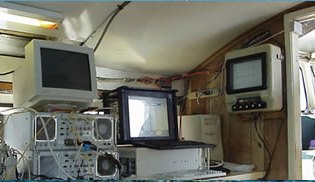 OIC Equipment Onboard an OIC Survey Vessel