GeoDAS-DT : Post-Acquisition Processing
The "Desktop" Edition of GeoDAS is the cost-efficient way to post-process data already acquired.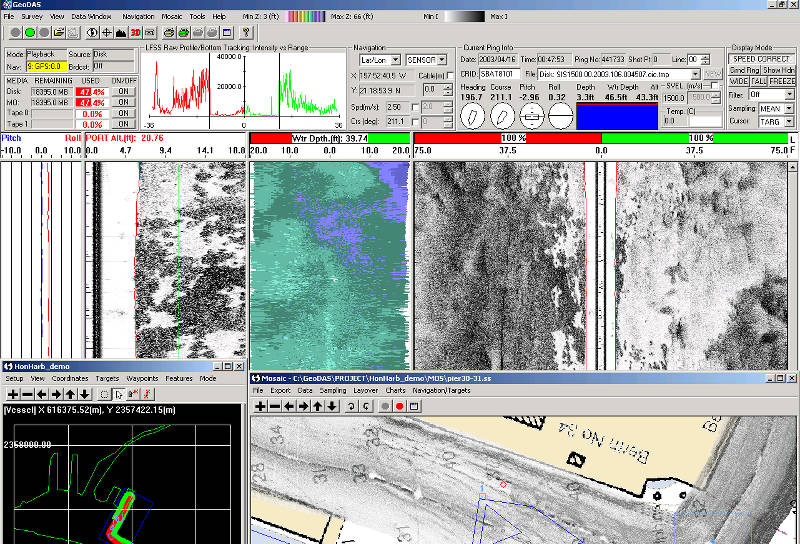 Features Include:

Fully geocoded sidescan imagery and bathymetry data with processing and enhancement options
Sidescan processing options include enhancement of image gain and contrast, suppression of beam-pattern artifacts, interactive bottom track editing, and an infinite variety of color maps.
Bathymetry processing options include draft, tide and sound velocity correction, beam editing, and attitude bias and latency compensation
The Navigation and Attitude Processing module (OIC_NAP) allows import, reprocessing, and export of navigation and attitude data, cleaning spikes and interpolating gaps.
Datum conversion and re-projection: LON/LAT, UTM, SPCS, OSGB and more.
Supports mosaicking of sidescan and bathymetry data at any resolution.
Export to image and GIS-ready formats: ERMapper, ARCInfo, ASCII, etc.
Formats Supported
C-MAX Data format: (QMIPS)
Datasonics SIS-1000, -1500, -1501,-3000 Data format: (OIC)
EdgeTech DF 1000, 272-T, FS-Chirp Data format: (Raw)
Klein 595, KL2000, KL5000 - Data format: (Raw)
MSTL Sea Scan 150-300-600-1200 Data format: (MSTiff)
Reson SeaBat 9001, 8101, 8125 Data format: (6042)
Simrad EM12, 1000, 300, 3000 - Data format: (Raw)
Tritech/SeaKing SKTF325, SKTF675 Data format: (Raw)
Hypack Max
SEG-Y
XTF
CODA
Hypack Max