GeoDAS-MPE - Mission Planning and Execution
GeoDAS-MPE our latest software release, GeoDAS-MPE is our Mission Planning and Execution software program; as the name indicates, it supports mission panning and execution stages of acquiring survey data for a subject area of interest
Mission planning consists of the design, edit, and review of operation areas (OpAreas), SubAreas, and survey lines
Mission Execution consists of real time mission running activities; i.e., mission selection, displays, surveys, and object database interactions
MPE receives position and platform data via messages from a stand-alone Navigation Controller and sensor/data status messages from the Acquisition and Display Processors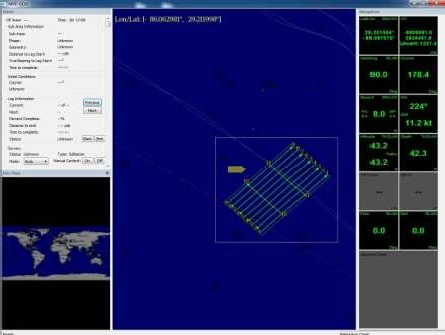 Features
Navigation panel provides current survey data.
Create OpAreas.
Create SubAreas
Three default survey designs to choose from (Area Coverage, Waypoint, Target of Interest).
Create "Targets of Interest".
Group targets.
Create target reports.
Edit survey lines.
Execute a mission.
Import and export mission plans.
Convenient tools include measure tool and a conversion tool.
Monitor the survey legs during mission execution.
View coverage map as mission proceed.
Benefits
Create several mission planning models.
Create a variety of surveys for different uses (e.g., lane-to-lane coverage or full coverage).
Graphically compare the differences (e.g., time and distance) between planned surveys before ou run them