Data Processing Services
OIC provides a variety of processing services including data geocoding, mosaicking, and geometry correction of raw aerial images. Our data processing facilities have been utilized by many clients including Raytheon, GeoScience Earth and Marines Services, Inc. (GEMS), Science Applications International Corporation (SAIC), and Johns Hopkins University to provide them with superior output results, from data analysis and processing to complete mission product output.
OIC supports output to most devices, including tape drive, MO (Magneto-Optical), JAZ, DC, DVD or print, and can deliver the output in a variety of file formats. Examples are shown below place (cursor over an image to magnify it).
Reson SeaBat 8101 Multibeam Echosounder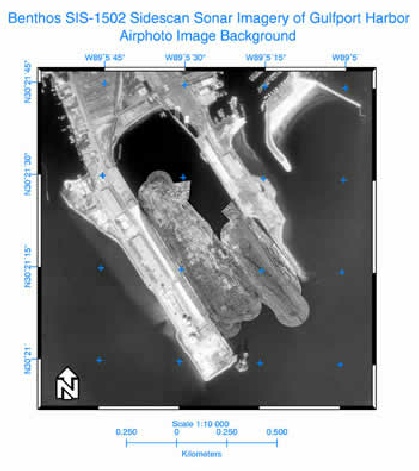 Sidescan data were collected with GeoDAS-PC during the annual NAVOCEANO training course. The data were processed at 30-cm resolution in GeoDAS-Desktop and overlaid on top of an air photo image in ER Mapper.
Teledyne Benthos SIS-1502 Sidescan Sonar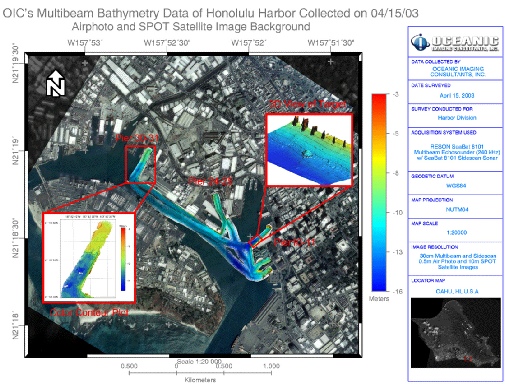 Bathymetry and sidescan data were collected and processed (10-cm resolution) in GeoDAS and overlaid on top of air photo and SPOT satellite images in ER Mapper. 3D view of a target and a bathymetry contour map were inserted to show details.
Interferometric Sidescan Sonar - South Peru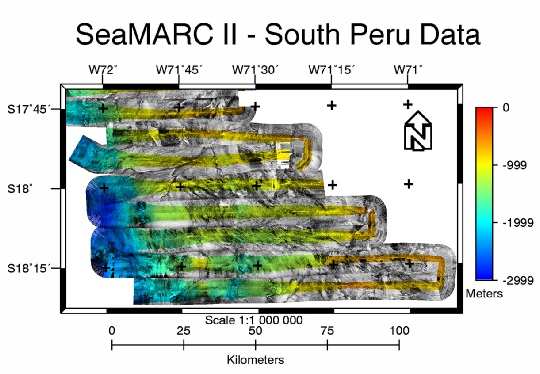 SeaMARC II Data were converted to OIC format on UNIX and processed in GeoDAS-Desktop at 100-m resolution.