© 2013 Oceanic Imaging Consultants, Inc.


Service + Software for Seafloor Mapping


Oceanic Imaging Consultants, Inc. (OIC) is the leading manufacturer in easy-to-use seafloor mapping software systems; our software systems are used by commercial, federal, military, and academic clients worldwide. OIC's software provides critical solutions to seafloor imaging problems. We are able to accomplish our client's goals by providing consistent high quality, easy-to-use, turnkey software as well as in-house expertise and excellent customer service.
Founded in 1993, OIC began as a spin-off of research performed for the Office of Naval Research at the University of Hawaii. Today, OIC is a full-service company that designs ocean survey software systems and provides consulting and data processing services for seafloor mapping. Our unique user-friendly software provides scientific analysis and interpretation of sonar data that allows users to create accurate mapping products on the fly. OIC also offers supervised training in our office, at sea, or at a location of the client's choosing. We are proud to say our expertise is the result of decades of hands-on surveying experience.
What's New at OIC? SAMM!
Our Stand-Alone Mosaicking Module for Forward-Looking Sonar!
Easy to Use Plug-and-Play Add-on to Your Forward Look Sonar

Automatically Creates Mosaics in Real Time from Forward Look Sonar Data

Automatically Loads Background Charts or Imagery for Easy
Geo-Referencing

Supports Post-Processing, Swath Layering, Imagery Enhancement and Export
SAMM is our Stand Alone Mosaicking Module, ideal for underwater search and survey.
SAMM-PACK bundles SAMM with a forward-look sonar, steerable pole-mount, GPS system and computer to give marine units an underwater search system that maps the searched area, shows areas covered on a map, chart or air-photo background, and allows target marking and image export.
You see where you have searched as you go, and know what you have to cover next. With GeoTIFF and Google-Earth exports, quantifiable reporting is a snap!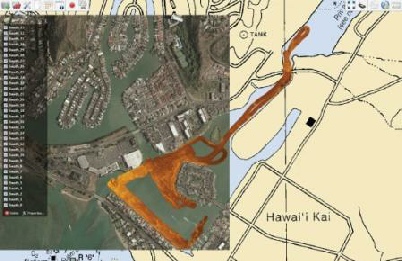 Click here to transfer to
our SAMM web page.